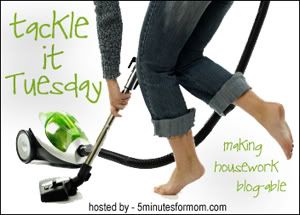 Hello, fellow Tuesday Tacklers and my regular readers alike. I have never done a Tackle it Tuesday post before and I'm not entirely sure that I will again but hey, this was fun and easy and I got a free product to try out.
For those who may not know,
5 Minutes for Mom
is hosting a CLR Tackle it Tuesday contest. If you wrote in to receive a free container of CLR Bathroom and Kitchen and you posted about your experience using the product, you would be entered in the contest to win some cash and prizes!
So without further ado here is my tackle: I have decided to show you the trouble areas I usually have and how well CLR dealt with them.
Let's begin with the kitchen. My least favourite thing to clean is my sink and voila, here it is in all it's ucky glory:
And now after a few sprits of CLR and some wipe down and rinse:
She's all nice and sparkly now!
Off to the bathroom we go:
Beginning again with the sink:
Before:

After:
Now for the tub:
Before:

After:
And finally the toilet:
Before:


After:

I have to say I really like this product. It is so much easier to use than the abrasive cleaner that I normally use. With my old cleaner, I never felt like I could ever rinse it clean enough and there would always be bits of grit left behind. Not a problem with CLR.
So thank you
5 Minutes for Mom
and CLR for this fun contest. I might actually enjoy cleaning my kitchen and bathroom now!!